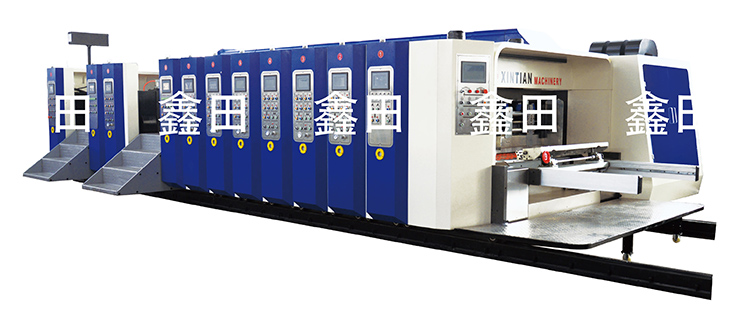 Main Technical parameter:
SERIAL
WYAZS NAME
UNIT
WYAZS
900×2000
1200×2000
1200×2400
1400×2000
1400×2400
1
Inboard width size
mm
2400
2400
2800
2400
2800
2
Max.paper size
mm
950x2200
1270x2200
1270x2600
1470x2200
1470x2600
3
Max.printing size
mm
900x2000
1200x2000
1200x2400
1400x2000
1400x2400
4
Skip feeding size
mm
1150x2000
1450x2000
1450x2400
1650x2000
1650x2400
5
Min finish size
mm
300x640
320x640
320x640
380x720
380x720
6
Thickness of printing plate
mm
7.2
7.2
7.2
7.2
7.2
7
Max.speed
P/min
220
180
180
160
160
8
Topping precision
mm
6 colors±0.3
6 colors±0.3
6 colors±0.3
6 colors±0.3
6 colors±0.3
9
Slotting precision
mm
±1
±1
±1
±1
±1
10
Max.slotting depth
mm
200
300
300
350
350
Function and Characteristics:
■
High precision, six colors 0.3mm printing accuracy; High wire, 140LPI printing wire; High efficiency, high printing, drying, coating, drying again, slotting, die cutting, waste cleaning, piling, counting whole complete; Low consumption, multi-stage risk control, multi-stage temperature control, frequency conversion with servo, saving electricity.
■
Whole machine electric parts was choice the international famous brand , good quality and steady.
■
Complete machine baffle and important parts was used the temper for decrease the metal internal force, and that parts was made by high precision process center and grinded by digit-controlled grinder.
■
All the transmission axle and roller are made by the high-quality steel, temper, and dynamic balance; plated with rigid chrome and grinded surface.
■
All the transmission gear was used the 20CrMnTi alloy steel, which is grinded after heat-treatment, and it was made by rubbing , it still maintains the high topping precision.
■
The whole machine undergoes the spray lubrication , intuitionist show setting ,setting the double oil pipe balance system
■
Whole machine working interval adjustment, free-spanner self-lock worm wheel and worm device , fast and convenient.
■
Can choice servo motor free pressure or lead edge feeder suction
■
Setting the ink alarm device ,real-time monitoring of the work status of the ink supply system.
■
One-button antomatic pre-stick printing plate, computer can adjustment every printing unit printing plate to center of the cardboard according to the width of the cardboard, reduce waste cardboard when adjustment the machine.